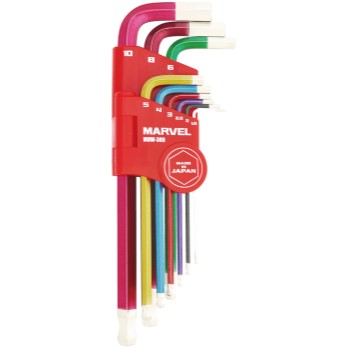 | | |
| --- | --- |
| Item No. | MHW-309 |
| Number of Sets | 7pcs: Size 1.5 , 2 , 2.5 , 3 , 4 , 5 , 6 , 8 , 10mm |
| Weight | 350g (Holder Included) |
| Body Size | H183.0mm x W66.0mm x D27.0mm |
| Material | Special Alloy Steel |
| MADE IN JAPAN | |
Features
Each size is obvious with coloring of handle !
Not Slippery.
*The 6 sides of the taper head are in close fitting with the bolt hole without gap.
Made of special alloy steel with excellent wear resistance and durability.
Covered with Reinforced Nickel Plating
*Better wear resistance and corrosion resistance than hard chromium, It is also environmentally friendly, because it does not use chromium.